What is Down Syndrome?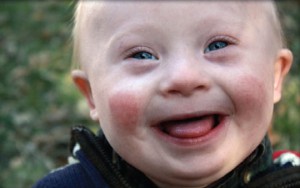 Down syndrome is a chromosomal variation which usually causes delays in physical, intellectual and language development. It is one of the leading causes of mental retardation. Down syndrome occurs about once in every 722 live births (about 4,000 individuals each year) and affects approximately one-quarter million families.
The exact cause and prevention of Down syndrome are not known. Down syndrome occurs at the moment of conception. There is wide variation in mental abilities, behavior and physical development in individuals with Down syndrome. Each individual has his/her own unique personality, capabilities and talents. Many adults with Down syndrome hold jobs, live independently and enjoy recreational opportunities in their communities.
Who is The Down Syndrome Association of Minnesota?
The Down Syndrome Association of Minnesota is composed of some 3,000 members; more than 900 people with Down syndrome, their families and friends, plus health-care, education and developmental professionals. They are the only organization in our region devoted exclusively to the needs of people with Down syndrome and their families.
They are funded through memberships, private and corporate donations and various fund-raising events. As a result, all services are available to members throughout Minnesota and neighboring states at no cost.
The Down Syndrome Association of Minnesota is affiliated with the National Down Syndrome Congress, National Down Syndrome Society and PACER.
To learn more about The Down Syndrome Association of Minnesota, please visit their website.
Highlights of the Fashion Show
The 2009 Fashion Show charity was held by Beau Monde Salon located in Burnsville, Minnesota. Those who attended saw the new fashion trends in clothing and jewelry, enjoyed great food and received a thank you gift for coming and supporting our charity – The Down Syndrome Association of Minnesota.
Here are a few pictures from the show.