Who is Feed My Starving Children?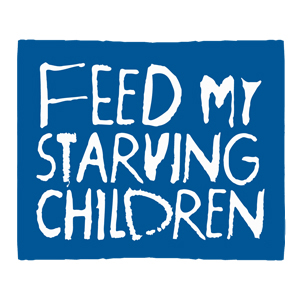 FMSC is a non-profit organization committed to feeding starving children hungry in body and spirit. Their approach is simple: volunteers pack nutritious meals made of rice, soy, vitamins, and dehydrated vegetables. FMSC partners with relief organizations world-wide to distribute these nutritious meals to starving children. They ship the meals to more than 60 countries around the world.
Unique aspects of Feed My Starving Children (FMSC)
Food mixture was formulated by Minnesota food scientists to address the needs of children suffering from malnourishment
Volunteers package 100% of the food
Christian and humanitarian relief organizations partner with FMSC to deliver the food to children around the world
Food Ingredients
Each FMSC meal provides the key nutrients a starving child needs to survive and thrive.
Rice – the most widely accepted grain around the world
Extruded soy nuggets – maximum protein at a low cost
20 vitamins and minerals (with vegetarian chicken flavor) – nutrition & flavor
Dehydrated vegetables – nutrition & flavor
The meal's only preparation requirement is boiling water. Each meal costs only 17 cents to produce.
For more information, please visit their website.
Highlights of the Fashion Show
2006 was the first Fashion Show charity event held by Beau Monde Salon located in Burnsville, Minnesota. Those who attended saw the new fashion trends in clothing and jewelry, enjoyed great food and received a thank you gift for coming and supporting our charity – Feed My Starving Children.
Here are a few pictures from the show.